Music and Performing Arts at Shelter Rock
Upcoming 23-24 Musical Events at Shelter Rock
Watch for more information about Music and Performing Arts Events in Quest newsletter and in Featured Programs descriptions on the uucsr.org calendar.
Saturday, November 4, 2023 | 7:00 pm
Cabaret at the Rock
Annual Fundraising Event to benefit the Edward Miller Memorial Music Scholarship Fund
Sunday, December 10, 2023 | 2:00 pm
Annual Messiah Sing
The UUCSR Choir and Soloists with The Orchestra at Shelter Rock
Saturday, February 3, 2024 | 7:00 pm
History of Gospel Music Concert
Sunday, April 14, 2024 | 11:00 am
Music Sunday 2024
The UUCSR Choir and Soloists with The Orchestra at Shelter Rock
Click image below to watch the livestreamed 2023 Summer Concert.
Summer Orchestral Concert featuring masterworks by:
Myloka Lysenko, Taras Bulba: Overture
Myroslav Skoryk, Melody
Boris Lyatoshinksky, Symphony No. 3, Op. 50 B minor
Sergey Lyapunov, Rhapsody on Ukrainian Themes for Piano and Orchestra.
Music is an important part of ministry at Shelter Rock!
Music helps communicate deep human and Unitarian Universalist values. Shelter Rock is a community where you can look forward to great music. Regular programming includes:
Adult Choir
Annual Summer Orchestra at Shelter Rock Concert
Cabaret at the Rock to Fund Scholarship Program
Edward Miller Memorial Music Scholarship
Multigenerational Jazz Ensemble
Musical Performances, Member Theatre, etc.)
Occasional Classes (Singing, Sight Reading, Ukulele, etc.)
Orchestra at Shelter Rock
Special Events (Messiah Sing, Summer Concert, Music Sunday, Professional
Young Peoples' Choir
For more information about the Shelter Rock choir or orchestra, or any musical performance, please contact:
Stephen Michael Smith
Music Director
516.472.2942
Carrie Ann Sampogna
Staff Liaison
516.472.2975
Stephen Michael Smith, Music Director
Stephen directs the Choir, Orchestra, and all musical programs and events presented by the Music and Performing Arts Committee, as well as oversees the Jazz Ensemble.
Those of us who have seen Stephen in action, know that he comes to us with amazing talent. I have always been fascinated by him and wanted to know more about his background and who he really is as a person, so I asked him to submit to the following interview.
Stephen Michael Smith has served as Music Director of the Unitarian Universalist Congregation at Shelter Rock since 1999, where he established The Orchestra at Shelter Rock in 2007. Recognized for his ability to communicate his infectious passion for music to fellow musicians and audiences alike, he currently also serves as Music Director of Symphonic Pops of Long Island and Danbury Community Orchestra.
Mr. Smith has performed throughout the US, Russia, and Europe. He was chosen twice to participate in the International Northern Baltic Festival at the Hermitage Theatre of the State Hermitage Museum, St. Petersburg, Russia. He appeared on PBS in "Articulate with Jim Cotter" nationally and in Europe featuring the world premiere performance of Gerald Busby's Concerto for Orchestra and Piano with The Orchestra at Shelter Rock. Maestro Smith is a champion of new works, conducting world premieres of orchestral, choral, and chamber music works.
During his tenures as Music Director/Conductor of the Shrewsbury Chorale (NJ) and the Dalton Alumni Chorale (New York City), Mr. Smith prepared both institutions for their Carnegie Hall debuts with New York Grand Opera.
Maestro Smith received his first professional appointment at the age of 11. He studied orchestral and opera conducting with Vincent La Selva at The Juilliard School in New York City, and coached privately with Mariusz Smolij (Northwestern University) and with Alexander Polishchuck (N. A. Rimsky-Korsakov Conservatory, Russia). His primary training as an organist was under the tutelage of the renowned concert organist, Claire Coci.
Mr. Smith has taught at the University of Hawaii, Hartwick College, and the American Academy of Music. He previously held the positions of Executive Director of the San Francisco Opera Guild, Development Director of the Chamber Music Society of Lincoln Center, Interim Director of the Merola Opera Program and Consultant with the University of California at San Francisco, The Wolf Trap Institute for the Arts, and Opera Southwest.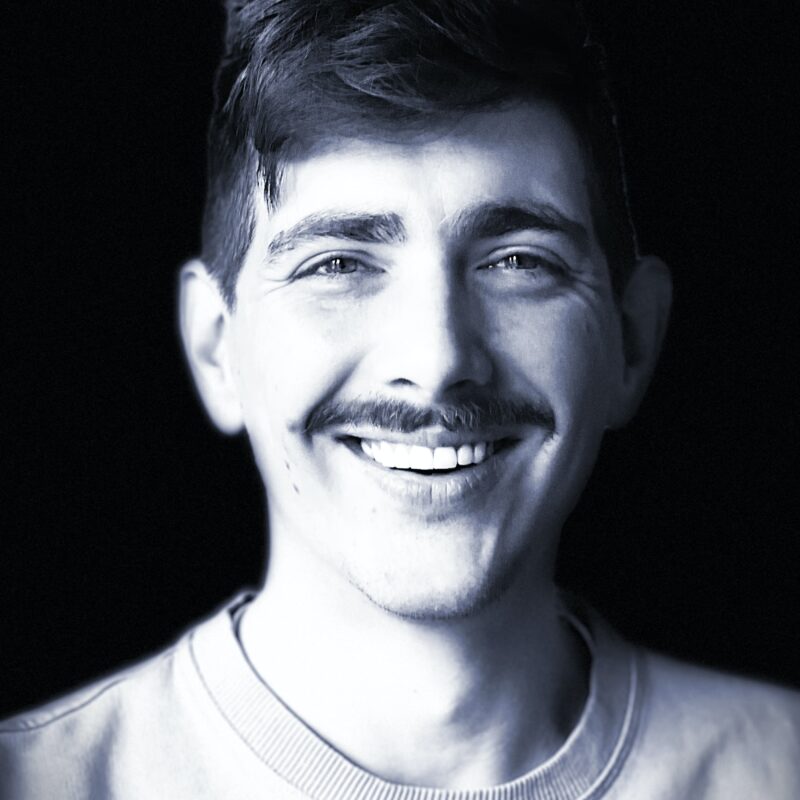 Nathaniel LaNasa, pianist
Pianist Nathaniel LaNasa discovers fresh possibilities of sonority, gesture, and storytelling in music — especially in music being written NOW. In early 2022, Nate played sixty performances of Ricky Ian Gordon's new opera for two pianos, Intimate Apparel, at Lincoln Center Theater. The work debuted on PBS Great Performances in September. This year Nate's also appeared at Wigmore Hall, Royaumont Abbey, Musée d'Orsay, and with the Federation of Art Song (Princeton); he looks forward to returning to Brooklyn Art Song Society in January. Nate appeared in NYFOS Next's 2021 show, "9 under 34," and on the mainstage in "The Wider View" last April. In October 2022 he became the curator of NYFOS Next, presenting a composer portrait of Errollyn Wallen and a program of diverse living composers entitled "The Threefold Terror of Love" at the Rubin Museum.
A consummate collaborator, he has been praised for his "stormy lyricism" (The New York Times) and his "poise and elegance" (Feast of Music). As winners of the 2019 Joy In Singing International Art Song Competition, Nate and baritone Gregory Feldmann made their sold-out Carnegie Hall debut in February 2020. In April, they recorded Fauré and Ullmann songs for B records (Paris). Nate has also partnered extensively with vocalist Lucy Dhegrae; they have performed together in a candlelit crypt, as part of the Resonant Bodies Festival, and at the American Music Festival (Albany Symphony). Nate has premiered works for quarter-tone pianos by Dimitri Tymoczko at Princeton, made first recordings of chamber works by Tobias Picker for Tzadik, and workshopped Hannah Lash's opera "Desire" at Columbia's Miller Theater.
Nate's NYC credits include Alice Tully Hall, MoMA, and (le) Poisson Rouge. A graduate of the Juilliard School and a 2018 fellow at Tanglewood, Nate joined the coaching staff at Berlin Opera Academy in 2019, and the faculty of Saluzzo Opera Academy in 2021. He's been teaching at Piano Works in Progress, in residence at the Adamant Music School, since 2017. Nate is passionate about interdisciplinary work, and exhibited two paintings as part of The Why Collective's "Mixt: a Living Gallery" in February 2023. March 2023 brought his first solo art show, in Manhasset the Shelter Rock ARt Gallery. His theatrical debut took place in March 2023 off-Broadway at the cell. Nathaniel-LaNasa.com
Brian Jeffers, Section Leader/Soloist
We are pleased to welcome Brian Jeffers to Shelter Rock as our new leader in the tenor section. Brian has served as a substitute section leader in the past, and we are eager to have him as a part of our musical team.
Brian Jeffers is a NYC-based vocalist and actor praised as a flexible and heroic tenor (Opera News). His 2022/2023 season engagements included his mainstage role debut as Beadle Bamford in Sweeney Todd, as well as Lillas Pastia in La Tragedie de Carmen with Chautauqua Opera, and his symphony debut with the Chautauqua Symphony Orchestra. In March, he made his Lincoln Center chorus debut as part of the NY Philharmonic Chorus in Adolpus Hailstork's oratorio Done Made My Vow, as well as Mozart's Mass in C Minor with the Mostly Mozart Festival at Lincoln Center's David Geffen Hall.
In 2016, he made his professional debut in the world premiere of Jonathan Dawe's Nero and The Fall of Lehman Brothers at Columbia University's Casa Italiana, and was a guest artist at The Juilliard School's revival of Dawe's Cracked Orlando, with their Center for Innovation in the Arts. He has been seen with Aspen Opera Center, Bronx Opera, Opera Saratoga, Chautauqua Opera Company, New Amsterdam Opera, Axelrod Performing Arts Center, and City Lyric Opera.
Active in choral and popular repertoire, he is a member of the New York Philharmonic Chorus, has performed the solos in Mozart's Requiem, To Be Certain of a Dawn (Paulus), King David (Honegger), The Creation (Haydn) at ASU Gammage, Vesperae solennes de confessore (Mozart) and Messiah (Handel). As a chorister, he has performed Britten's War Requiem, Verdi's Requiem, Bach's B Minor Mass, Orff's Carmina Burana, Poulenc's Gloria, and Brahms' Ein Deutches Requiem. He has performed as a backing vocalist for Kristin Chenoweth with the Phoenix Symphony, and, in early 2023, appeared with the Gloria choir and with Sharon Stone on Saturday Night Live with musical guest, Sam Smith.
On-Premises Covid Guidelines
Effective June 14, 2023, UUCSR follows CDC guidelines that no longer require masks or testing. Members, staff, and guests are always welcome to wear masks as they feel appropriate.